I want to know what you are going to focus on in your classroom this year. Phonics, writing, problem solving, classroom management, etc. I know we try to do more than 3 new things in a year, but let's just share our top 3. You can do more if you are an overachiever!
Copy this button in your post!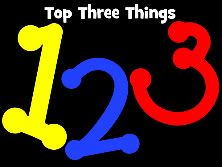 1. Word Wall - I am going to really focus on improving my word wall instruction this year. Last year it was not something I was proud of. I have done a lot of prep work this summer so that I will be able to utilize my word wall.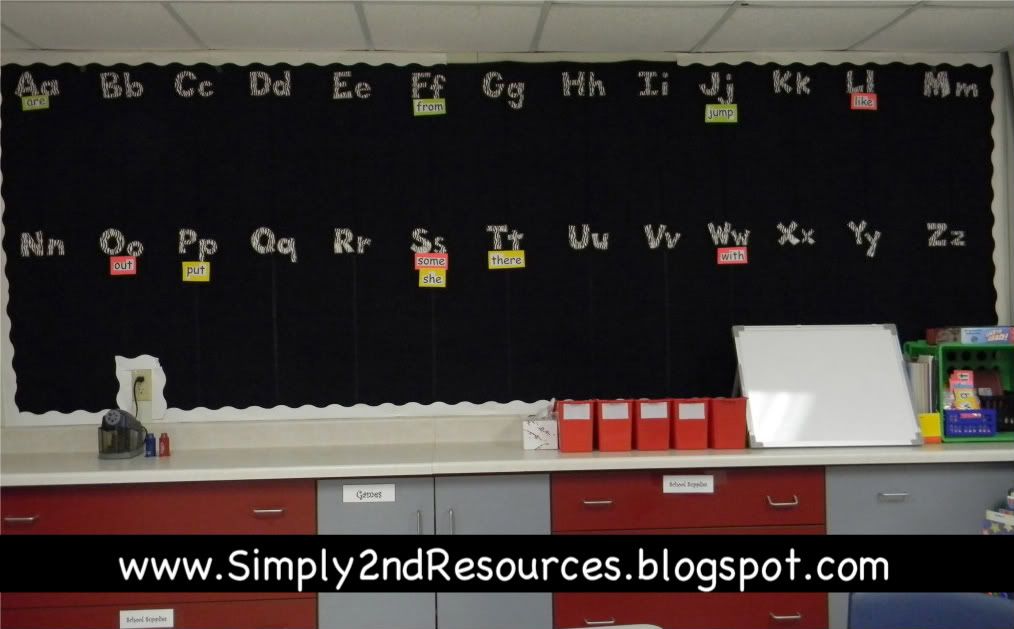 I put a long strip of velcro under each letter vertically and a velcro dot on the back of all my words. I have ALL my word wall words ready for the year. YES! I feel awesome about that! Plus I have Ginny Dowd's word wall chants and games to help me make our wall interactive this year. I can't wait!
2. Reading - I think I am a pretty good reading teacher, but I am seeing things differently after reading The Book Whisperer this summer. I learned some things about myself as a teacher. I am a huge reader, but I wasn't doing a great job of sharing that with my students. I really focused on the mechanics and amount of time spent reading. This year I am going to share my enthusiasm and love for books. I am going to have a author of the month board to showcase great writers because if you know about the author, it changes how you read the book. The kids are going to have their book boxes at their desks this year so they can read during every spare moment. I am working on reorganizing and leveling my classroom library to make it more user friendly. I can't wait to share with my class this year!
3. Everyday Flipchart - I have also been making improvements to my daily flipchart. At the beginning of last year I was making PowerPoint presentations for every day. Then I changed over to Promethean flipcharts to make it more interactive. This summer I decided I wanted to do even more. Here are some screen shots of my flipchart.
This is the main page. Each square links to the correct page.
This will be a very quick part of the flipchart. I want them to be aware of
what day it is, upcoming holidays, and events.
I love this clock. You can manipulate the hands! We will be really
working with this.
The tens rod and cube are drag a copy, so you can have as many as you want!
Same thing here--add drag a copy!
I am hoping to do this with containers. Measurement is so hard to teach,
so I am going to start it at the beginning and to it as many different
ways as possible throughout the year.
Addition practice with a tens frame to help us!
Subtraction with a number line for counting back.
Another measurement page. We will decide what to measure and with what.
For example, measure your desk in crayons. I want us to have plenty of
practice with nonstandard measurement.
I love these reveal tools. The words are hidden until we drag the picture
over it. This is for our word wall words.
These are our spelling words. Each slide for the week is different.
More fun reveal tools for our Fry's phrases!
I can't wait to see your three things!