Well...
I will be leaving 2nd grade and moving to 4th grade! I have tons of planning to do this summer. :)
I am going to be working with some amazing ladies on my new team. I am very sad to leave my 2nd grade coworkers. They have helped me so much these last 2 years.
Please come over and follow my new 4th grade teaching blog. I will also be making a blog for my students to work on throughout the year. I am hoping we will be able to do a lot more with technology!!!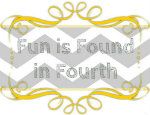 Come over and visit!!!