Don't you just love these? We are all doin' it!!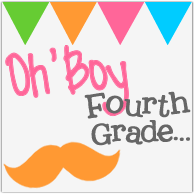 Jump on over to visit Farley for the latest linky party!
I just have to say that I am loving my class of 4th graders. They are such a relief after last year. I really struggled last year with the group I had and the new expectations from my district. It was rough...
I have been thanking the Lord daily for my great group. I have high hopes for this year. I also love that they are more independent and we can do more. They still have problems listening and following directions, but would it be school if we didn't have that problem?
I have a few pictures to share with you. I know, shocker right? :)
I added some great reference material to my ceiling.
These are just a few...
My name plate outside my classroom door.
Have a great weekend!!!